Digital marketing is widely used today as both small and large brands strive to reach their target audience effectively. Over time, innovative professionals have developed various tools to market content that can engage the audience and provide an exceptional digital experience.
Are you looking for innovative digital marketing solutions for your business needs? Look no further than Technotic Solutions! This article provides detailed information on Technotic Solutions and Rith Deb, the founder of Technotic Solutions, who continues to be the driving force behind the company's success.
From Inception To Inspiration
In 2017, Technotic Solutions was established in Mumbai, with Rith Deb as its founder. Rith is a skilled digital marketer and an excellent communicator, which makes him a passionate professional in the age of digital transformation. He is a Google-certified ad search specialist who has helped numerous brands succeed in the ever-evolving marketing industry.
Rith is dedicated to implementing effective digital marketing strategies with great attention to detail. He stays up-to-date with the latest trends and technologies in the digital world, allowing him to create unique digital marketing solutions for various clients worldwide. In addition to his expertise in digital marketing, he also possesses technical knowledge that sets him apart.
Rith is highly skilled and imaginative, with extensive expertise in machine learning and AI robotics. His proficiency in this field is a source of inspiration for his clients. He has an in-depth understanding of the latest technologies and is committed to revolutionizing online marketing to create a more valuable digital platform for companies worldwide.
Technotic has achieved record-breaking results that instill confidence and trust in its clients.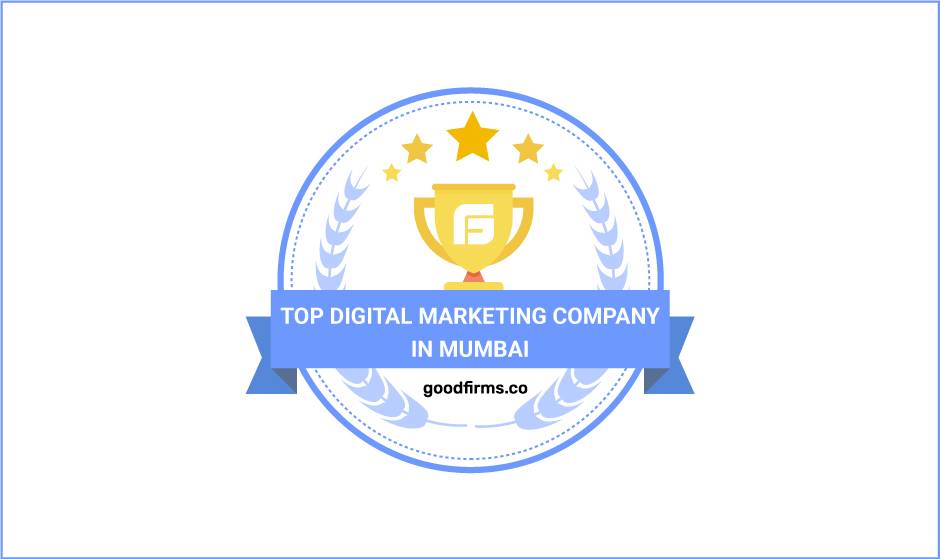 Technotic Solutions has been recognized as an innovative and result-oriented digital marketing agency by GoodFirms' reviewers and researchers. They have awarded Technotic Solutions as one of the top digital marketing companies in Mumbai.

Success In The Digital Marketing Industry Requires Exceptional Experience And Creative Intelligence
Technotic Solutions has gained the confidence of more than 350 contented customers, enabling them to pursue excellence in digital marketing. The company has expanded quickly by delivering several digital marketing services that produce measurable outcomes. Their unparalleled professionalism and proficiency in creating influential strategies assist businesses in achieving exponential growth.
Search Engine Optimization (SEO)
Technotic's SEO experts use advanced techniques to improve website performance, boost rankings, and drive targeted traffic. With extensive experience and qualifications, they deliver effective results.
Pay-Per-Click (PPC) Advertising
Running a Google Ads or PPC advertising campaign can significantly improve brand awareness and increase conversions. With various options available, Technotic's creative team is dedicated to creating targeted ad strategies that drive relevant traffic to your website and improve your return on investment (ROI).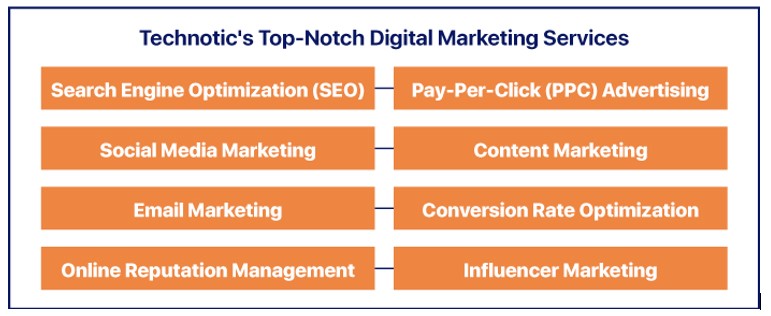 Social Media Marketing (SMM)
Social media marketing (SMM) can be a game-changer for businesses looking to connect with their audience and gain valuable insights into their needs and preferences. By collecting positive and negative customer feedback, brands can improve the quality of their products or services. Technotic's innovative approach to SMM includes careful planning, content creation, community management, and paid advertising to create engaging interactions that resonate with audiences and lead to great success.
Content Marketing
In today's world, successful content marketing relies heavily on marketing teams' storytelling abilities and creative intelligence. Technotic's content specialists and strategists are dedicated to delivering exceptional content distributed and promoted effectively across various digital platforms. Their content specialists prioritize producing informative and engaging content tailored to educate and entertain their target audience.
Email Marketing
Email marketing is an effective method to generate leads and strengthen customer relationships. The crew at Technotic specializes in crafting compelling email content and implementing strategies that boost conversions and cultivate customer loyalty.
Conversion Rate Optimization (CRO)
Improving user experience and optimizing conversion funnels can boost a business's ROI. The CRO specialists at Technotic employ A/B testing and data-driven strategies to analyze and comprehend customer behavior, leading to increased conversions and revenue simultaneously.
Online Reputation Management (ORM)
Technotic's team is dedicated to ensuring their client's online presence is protected and improved by creating engaging content tailored to a specific audience and developing successful plans to strengthen the brand's standing.
Influencer Marketing
Influencer marketing is on the rise as social media craves quality content. Technotic can help you find the perfect influencers for authentic customer engagement, building meaningful relationships, and successful campaigns to boost brand awareness and increase conversions.
Technotic has received exceptional reviews on Google, with clients from around the world giving them a perfect five-star rating.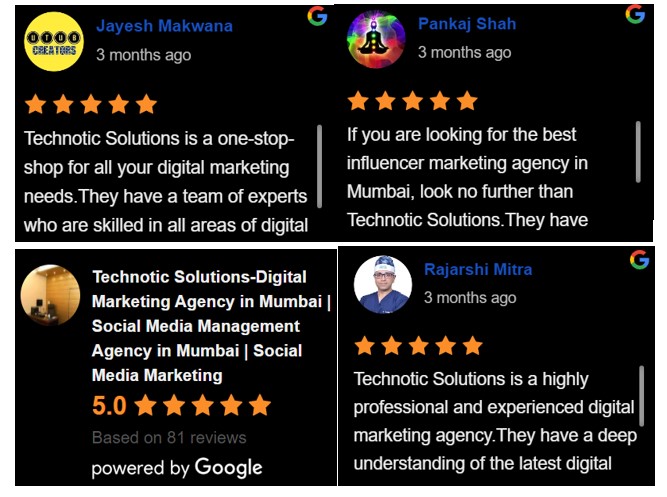 Why Do GoodFirms Consider Technotic The Top Selection For Digital Marketing Services?
Technotic is a leading digital marketing agency with over seven years of experience providing result-oriented digital marketing services globally. They specialize in creating profitable strategies that help their clients achieve good ROI and expertise in search engine optimization (SEO), Google ads, Social media marketing (SMM), content marketing, email marketing, etc.
Their data-driven approach with impactful strategies like innovative and creative thinking, careful planning, and implementing cutting-edge technologies that bring measurable results helped various companies grow their business exceptionally well in their respective domains.
Their commitment to providing customers with customized digital marketing solutions, such as increasing online presence, improving brand visibility, and generating tangible results, makes them the most sought-after digital marketing firm globally. And the company is "Great Place To Work" Certified.
Technotic's Clientele
Besides digital marketing, they have expertise in providing various IT services, including web design and development, mobile app development, eCommerce solutions, automation services, and AI, which includes chatbot development.
Conclusion
Technotic Solutions is a leading organization in digital marketing, thanks to Rith Deb's innovative vision and extensive experience. Deb empowers Technotic Solutions' teams to maintain high-quality services and inspire IT professionals with cutting-edge technologies such as Artificial Intelligence, machine learning, data analytics, and automation. This enables popular and startup brands to achieve higher ROI with excellent brand values.
Under Deb's dynamic leadership, Technotic Solutions continues to grow and consistently provide impeccable online marketing solutions to businesses of all sizes and shapes worldwide. Technotic Solutions is an inspiration to many in the era of digital marketing.
About GoodFirms
GoodFirms is a B2B research, review, and listing platform helping businesses accelerate their digital journey and maximize modern technology's value. The company connects service providers with service seekers through a comprehensive and thoroughly researched fact-based list of the best services and solutions. Recognized as the most reliable source for the B2B market, GoodFirms has world-class experience with partners across the globe.